Standard Sizes
LOCKJAW! Lids are theft-deterring security covers manufactured to retrofit a wide variety of traffic & non-traffic rated utility box enclosures over a wide range of manufacturers, dimensions and utilities types. SIPRA Corp. offers standard lid sizes anywhere from a single piece 10" x 15" unit up to a 30" x 60" three piece unit. Whether for new construction or an existing underground system, we have the size you need.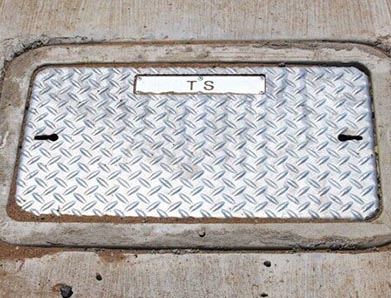 Custom Sizes
Custom sizes can be manufactured to your specifications for just about any size enclosure from single lid pull boxes to spring-assisted hinged vault covers. Ideally, we prefer to have a sample box at our facility for test fitting new sizes but this can also be done from field measurement if sample boxes are not available. For more information on custom sizing, please give us a call at 1-888-775-5543.
Markings
Markings to identify the utility associated with the enclosure can be incorporated in the cover or, if preferred, the covers can be left unmarked. If markings are required, a 2" x 9" marking plate secured by rivets can be affixed in a recessed pocket on the face of the cover for small quantity orders, or, for larger orders, the markings can be cut in to the face of the cover with a back plate welded underneath.